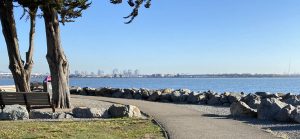 My First Virtual Forest Bathing Experience:
Recently I had my first real-time virtual forest bathing experience led by a guide.
In my only other forest bathing to date, I watched a pre-recorded video of forest bathing where the guide was in a forest and I in my house watching it on my iPhone.
So instead of staying home for the virtual Zoom forest bathing on that Sunday morning with Eco Monkey, I went to the nearby marina so that the three upstairs neighbor boys, who incessantly stomp on their floor, would not interfere with the calm that I seek. Plus, the local marina is a beautiful place to be.
We start the experience by listening to our guide explain where forest bathing started – Japan – and what forest bathing is and is not.
To immerse yourself in forest bathing, the ANFT(Association of Forest Therapy Guides and Programs) has a practice with a series of invitations in order to open up the world around us. Forest bathing is not a hike.
The guide leads us through brief introductions. We are all living throughout the United States and the UK. Everyone is inside their houses except for me who sits in my car facing the waters of the San Francisco Bay.
She leads us through a series of invitations, each time using a different one of our senses so that we connect with the environment around us. Where appropriate I get out of my car and walk around the marina's park grounds to immerse myself in the exercise.
It is a lovely, sunny day and there are a lot of couples, families, and dogs enjoying the park as well.
While it is true that none of us on the Zoom video conference are in a forest, we are still able to tune into the nature that resides in all of us.
To close out the two hour experience, we participate in a virtual tea ceremony and share a few words to complete our time together.
Before attending, I didn't know how we could fill two hours in a virtual conference without it becoming tedious or boring.
I couldn't have been more off the mark.
By keeping an open mind and following the invitations my first forest bathing experience was a rewarding experience.
I was so relaxed, feeling grateful and joyous after the forest bathing.
And it cemented my decision to move forward in this journey of becoming a certified forest therapy guide.