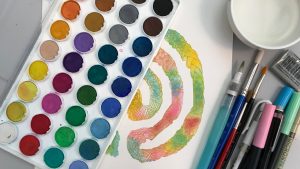 Watercolor Labyrinths Online Course
In this workshop, you will learn how to create personal labyrinths, also known as finger labyrinths.
Personal labyrinths are a perfect way to create a daily practice of walking a labyrinth especially if you do not have one nearby to visit, the weather is too harsh, or there are mobility issues.
We will be using watercolor, pencil, and pens in a variety of techniques to create labyrinths with your own personal touch.
The labyrinth techniques range from very simple to complex. The complex labyrinths are not hard to make, they will take longer to finish. And like anything that you dedicate yourself to, the more you put into it, the more you get out of it.
To begin with, we will practice how to draw a seven-circuit classical labyrinth. We'll use this same style of labyrinth throughout the whole workshop and just change the techniques.
When you enroll, all the lessons are available immediately. You can go at your own pace without having to wait for a lesson to be released.
And speaking of the lessons, the videos have been edited down to no more than 10 minutes each. I know you rather get to work on your labyrinths than watch my paint dry.
Once you learn how to make the labyrinths with watercolor, there is a bonus lesson where I briefly go over all the previous lessons. I will also show you easy ways to use water-soluble markers to create even more labyrinths.
View Watercolor Labyrinths Online Course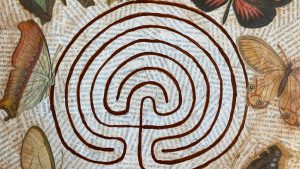 Collaged Labyrinths Online Course
Using book pages and symbolic imagery, create a collaged personal art labyrinth.
Step by step lessons guide you through the process.
If you have never walked a labyrinth or you have walked labyrinths hundreds of times, this project will bring out your creative side.
Collage is an easy to do art form and fun too.
Sign up today and get started on your one of a kind collaged labyrinth.