ABOUT THE BOOK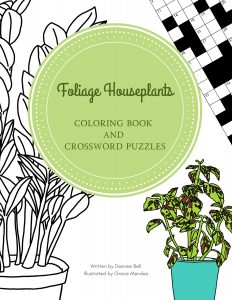 FOLIAGE HOUSEPLANTS: COLORING BOOK AND CROSSWORD PUZZLES
This 8.5″ x 11″ activity book, with 24 crossword puzzles and 24 coloring pages, offers plant enthusiasts clean-lined drawings to color and crossword puzzles with simple language.
Next to each coloring page, there is a crossword puzzle with 20 clues of the growing habits of the plant. Not only are the plants fun to color, but the crossword puzzles reinforce your knowledge of the plant.
The answer key in the back of the book fills in any missing gaps.
This book is for those who:
Keep plants in their house
Want to learn about foliage plants
Like coloring a single item
Work crossword puzzles
Want to keep the mind active
Maintain finger dexterity
Teach classes in science or horticulture
Want a gift for the houseplant parent
About the Author:
Desiree Bell is a nature enthusiast who tends to her indoor plants and has a passion for learning and sharing her love of botanicals with others.
About the Illustrator:
Grace Mendez is an artist who believes we all can explore our creative journey in ways that are both meaningful and fun.
Sign up. Be Inspired. Be with Nature.
Subscribe now for inspiration, tips, and news on upcoming gatherings, walks, and workshops.